This photo of Wales is courtesy of TripAdvisor
Ok I admit it. I derailed myself by listening to too much Rick Steves. (Darn you and your Celtic people radio show piece!) So even though I tend to plan in the long term when picking places for my annual European jaunt, I changed my mind yesterday. Those who know me in real life know how infrequently this happens.. ha ha. However, in light of the 2014 trip locale still being in play, I decided instead of Germany/Austria/Denmark/Holland that I'm going to drive around Wales for 13 days with my pal Maggie D.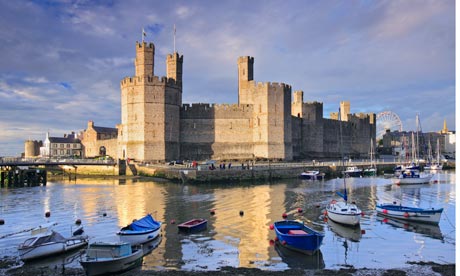 Caernarfon Castle, northwest Wales
Wales was part of the Roman invasion of Brittania in the first century AD. It only took the Romans about 30 years to conquer it. After the Romans, it was the Saxon invasion. For all this conquering, and after hundreds of years, its kind of neat to note that the Welsh still retain their own language. Along comes the rise of neighboring England, with King Edward going on a caste building spree through Wales in 13th century. Shockingly, many of these castles still stand today, and are a testament to the skill of the stonemasons who built them. Not bad for men who were mostly illiterate and a far cry from our modern day heavily educated architects, no?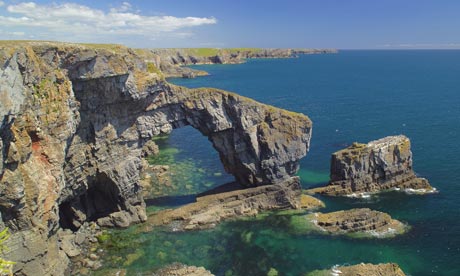 Wales became part of Great Britain in the early 18th century and officially part of the United Kingdom in the early 19th century. Even though its part of one of the most powerful dominions in recent history, Wales retains much of its rural atmosphere. Sure it has and international airport in Cardiff, but you're most likely to encounter ten times as many sheep as a McDonald's while driving down the road. So what are the benefits to taking a holiday in Wales anyway? Well for one, it's a bit more on the slow side of life. Lots of beautiful country to see, quaint little villages to visit, and a totally odd language to figure out (please Welsh-folk, don't get mad. To our Latin-Saxon language based eyes, it looks pretty freaky-deaky with entirely too many consonants!). I immediately started Googling the major tourist attractions and was amazed at what I saw. I love road trips, and there seems to no end to all the beauty in this place. It's really not just sheep, even though I seem to remember someone mentioning that to me once. Castles, rolling hills, adorable border collies, old churches, and lots of myth and legend. It's a history geek's dream come true! Did I mention the Doctor Who exhibition in Cardiff? That's just icing on the cake! Wales even has beaches, and Snowdonia national park to explore.
Right now if you're flying to Cardiff from Los Angeles, its going to cost you only about $1150 round trip. I haven't spent that little since I went to Ireland a few years ago. The best part is, I don't want to stay in hotels on this trip. Maggie D has this obsession with the countryside, and on one of my previous trips to Scotland, I used an accommodation index of B&B's. A little googling, and hallelujah, there's one for Wales too! Hooray for Stay in Wales! I found so many cool places to stay on this website with very reasonable prices, I just had to pass it along. Look, a lot of these aren't fancy hotels with all the bells and whistles, but that wasn't what I was going for. One of the properties we found to stay at is a 750 year old fortified manor. Can you get any more awesome! Ok, maybe if it's haunted... ha ha. For my British readers, I'm certainly hoping you're taking advantage of the close proximity. Those flying in from Europe can fly into Cardiff, or nearby Bristol (over the English "border").
Who has been to Wales? Drop a comment and let me know!